Conheça os vencedores do SBI Awards
Durante a cerimônia de encerramento do Immuno 2018, foram entregues os prêmios de todas as categorias do SBI Awards.
O SBI Awards é uma premição que a Sociedade Brasileira de Imunologia (SBI) concede aos melhores trabalhos científicos apresentados pro estudantes e pós-doutores durante as sessões de pôsteres do Congresso Anual da SBI.
O premio é concedido pela Sociedade em quatro categorias de premiação: Iniciação Científica, Mestrado, Doutorado e Pós-Doutorado, sendo concedido um primeiro lugar e uma menção honrosa para cada categoria. O Comitê de Avaliação do prêmio Melhor Trabalho Científico é nomeado pelo Comitê Organizador do congresso da SBI.
Conheça os vencedores deste ano:
Undergraduate category
Pesquisadora: Laura Caroline de Faria, UFTM
Trabalho: Immunoregulation mediated by noni juice (Morinda citrifolia L.) does not minimize damage of renal injury in an experimental model
Pesquisador: Reinan Lima Santos, UFBA
Trabalho: Different inflammatory skin diseases and one regulator in common: microRNA-205
Master Student category
Pesquisadora: Carolina Paulino Pacini, UFRJ
Trabalho: INTERLEUKIN-6-MEDIATED IMPAIRMENT OF TREG DIFFERENTIATION IN VITRO UNEXPECTEDLY CORRELATES WITH REPRESSION OF B CELL MATURATION IN RESPONSE TO TLR AGONISTS
Pesquisadora: Flávia Sardela de Miranda, USP
Trabalho: Chronic blockade of lactate production and effects on macrophages in the tumor microenvironment
PhD student category
Pesquisadora: Marina Souza Vieira, UFMG
Trabalho: Exosomes from breast cancer patients modulates dendritic cells and suppress adaptive immune responses
Pesquisador: Gustavo Gastão Davanzo, Unicamp
Trabalho: HIF-1ALPHA-INDUCED METABOLIC REGULATION AND MITOCHONDRIAL DYNAMICS IS ESSENTIAL FOR MACROPHAGE POLARIZATION
Post-doctoral category
Pesquisadora: Izabela Galvao, UFMG
Trabalho: THE ROLE OF PI3K ISOFORMS IN THE RESOLUTION OF A NEUTROPHILIC INFLAMMATION
Pesquisador: João Luiz da Silva Filho, Unicamp
Trabalho: Heterogeneity of Plasmodium vivax-induced endothelial activation and dysfunction in symptomatic patients
Profissional category
Pesquisadora: Luciana Polaco Covre, UFES
Trabalho: Circulating Senescent T Cells Are Linked To Systemic Inflammation and Lesion Size During Human Cutaneous Leishmaniasis
Pesquisadora: Barbara Castro-Pimentel Figueiredo, UFBA
Trabalho: Schistosoma mansoni SmKI-1 or its C-terminal Fragment Induces Partial Protection against Schistosoma mansoni Infection in Mice
Clique aqui para ver as fotos das premiações e do Congresso.
DE CABELO EM PÉ: células T reguladoras e glicocorticoides colaboram para a manutenção do folículo piloso
Vânia Bonato
14 de setembro de 2022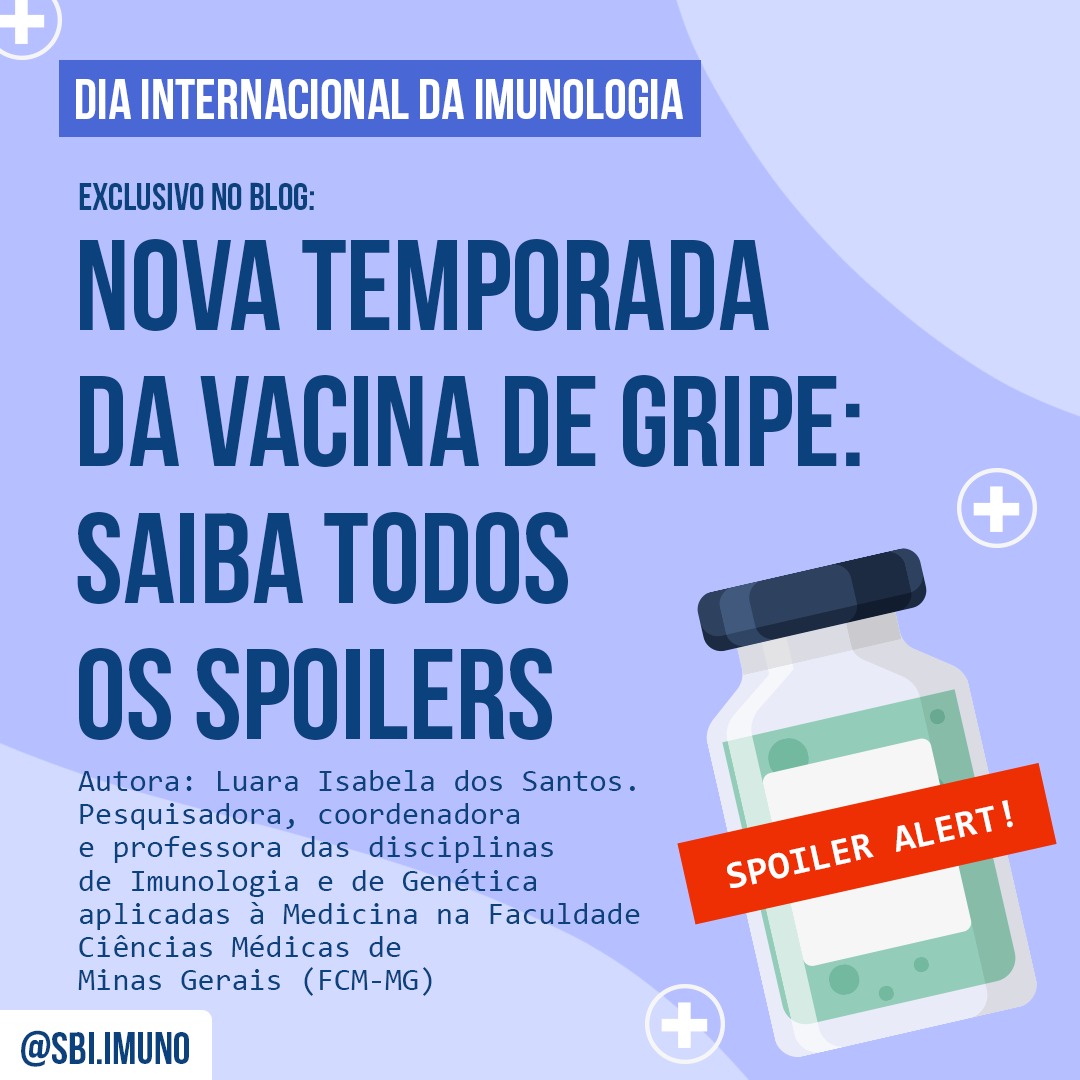 Nova temporada da vacina de gripe: saiba todos os spoilers
SBI Comunicação
27 de abril de 2022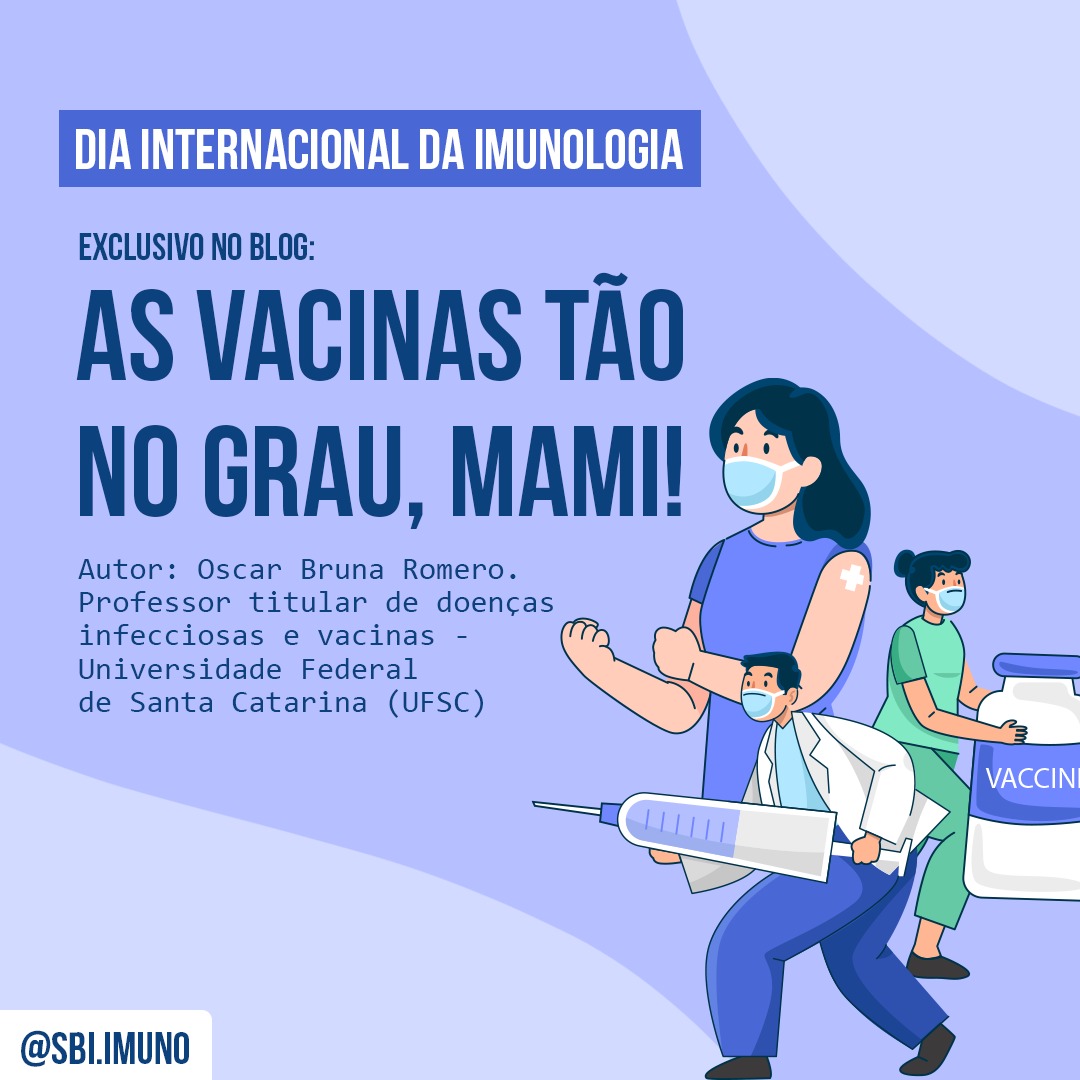 As vacinas tão no grau, mami!
SBI Comunicação
26 de abril de 2022