C. tropicalis acentua câncer de cólon associado à colite
Por: Bruno Marcel e Aline Carvalho (doutorandos IBA/FMRP-USP)
Editora: Luciana Benevides
O câncer colorretal (CCR) corresponde ao terceiro câncer mais incidente no mundo (1). Além de fatores genéticos, a microbiota intestinal também possui importante relação com o desenvolvimento do CCR. O desbalanço da microbiota intestinal, em condições de doença inflamatória intestinal, por exemplo, favorece a progressão de CCR (2,3). Apesar da maioria dos estudos envolvendo microbiota e doenças inflamatórias focarem em bactérias, os fungos também tem um papel importante em condições patológicas (4). Em modelo experimental de colite, fungos podem translocar do lúmen para a lâmina própria (5). O controle do fungos é dependente de CARD9, uma proteína downstream de dectina-1 (6). Sabendo que a colite é fator de risco para o desenvolvimento de CCR, e que animais deficientes para CARD9 são mais suscetíveis em modelo de colite, o objetivo do trabalho publicado na Immunity (7) foi entender o papel de CARD9 no desenvolvimento de câncer do cólon associado à colite (CAC).
Em modelo animal de CAC, foi demonstrado que a ausência genética de CARD9 favorece a progressão tumoral. Além disso, esses animais apresentaram um desbalanço na microbiota, com aumento da carga fúngica nas fezes, mais especificamente, fungos pertencentes ao filo Ascomycota, do gênero Candida, da espécie C. tropicalis. Os animais germ-free, que receberam C. tropicalis oralmente, também apresentaram um aumento da massa tumoral no modelo de CCA. O aumento de C. tropicalis nos animais CARD9-/- foi associado diretamente com o aumento de células supressoras de origem mielóide (MDSCs), mais especificamente com a linhagem granulocítica (G-MDSC). Esses resultados foram confirmados in vitro, uma vez que C. tropicalis foi capaz de aumentar a diferenciação de MDSCs, e essas células têm capacidade de suprimir a proliferação de linfócitos T CD4+ e CD8+ e dessa forma favorece o crescimento tumoral (Figura 1).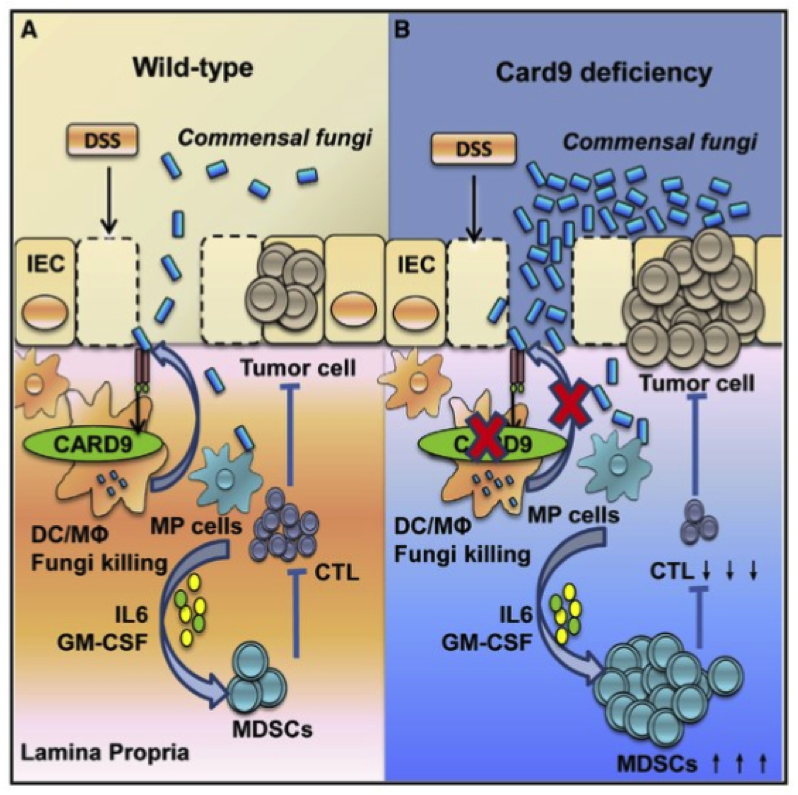 Figura 1 - A proteína adaptadora CARD9 apresenta importante atuação na resposta imune anti-fúngica, atuando na ligação da detecção dos fungos por PRRs e a ativação da via de NF-kB. A depleção de CARD9 nos macrófagos compromete sua atividade fungicida, aumentando a carga de patógeno. Camundongos CARD9-/- apresentam maior carga tumoral, por conta do acúmulo de MDSCs, as quais suprimem as células T.
Referências
Arnold M., et al. Global Patterns And Trends In Colorectal Cancer Incidence And Mortality. Gut 2017; 66:683-691.
Janelle C. Arthur, Ernesto Perez-Chanona, Marcus Mühlbauer, Sarah Tomkovich, Joshua M. Uronis, Ting-Jia Fan, Barry J. Campbell, Turki Abujamel, Belgin Dogan, Arlin B. Rogers, Jonathan M. Rhodes, Alain Stintzi, Kenneth W. Simpson, Jonathan J. Hansen, Temitope O. Keku, Anthony A. Fodor, Christian Jobin. Science, 2012:120-123.
Round, June L. Mazmanian, Sarkis K. The Gut Microbiota Shapes Intestinal Immune Responses During Health And Disease. Nature Reviews Immunology, 2009: 313.
Mukherjee, Pranab K. Sendid, Boualem. Hoarau, Gautier. Colombel, Jean-Frédéric. Poulain, Daniel. Ghannoum, Mahmoud A. Mycobiota in gastrointestinal diseases. Nature Reviews Gastroenterology & Amp; Hepatology. 2014:12-77.
Iliyan D. Iliev, Vincent A. Funari, Kent D. Taylor, Quoclinh Nguyen, Christopher N. Reyes, Samuel P. Strom, Jordan Brown, Courtney A. Becker, Phillip R. Fleshner, Marla Dubinsky, Jerome I. Rotter, Hanlin L. Wang, Dermot P. B. Mcgovern, Gordon D. Brown, David M. Underhill. Science. 2012: 1314-1317.
Liangkuan Bi, Sara Gojestani, Weihui Wu, Yen-Michael S. Hsu, Jiayuan Zhu, Kiyoshi Ariizumi, and Xin Lin. CARD9 Mediates Dectin-2-induced IκBα Kinase Ubiquitination Leading to Activation of NF-κB in Response to Stimulation by the Hyphal Form of Candida albicans. J. Biol. Chem. 2010: 25969.
Novas perspectivas sobre a quinase indutora de NF-κB (NIK) na regulação do metabolismo energético e funcional de células T CD8+ no microambiente tumoral
Vânia
22 de junho de 2021
O que são inflamassomas?
SBI Comunicação
22 de junho de 2021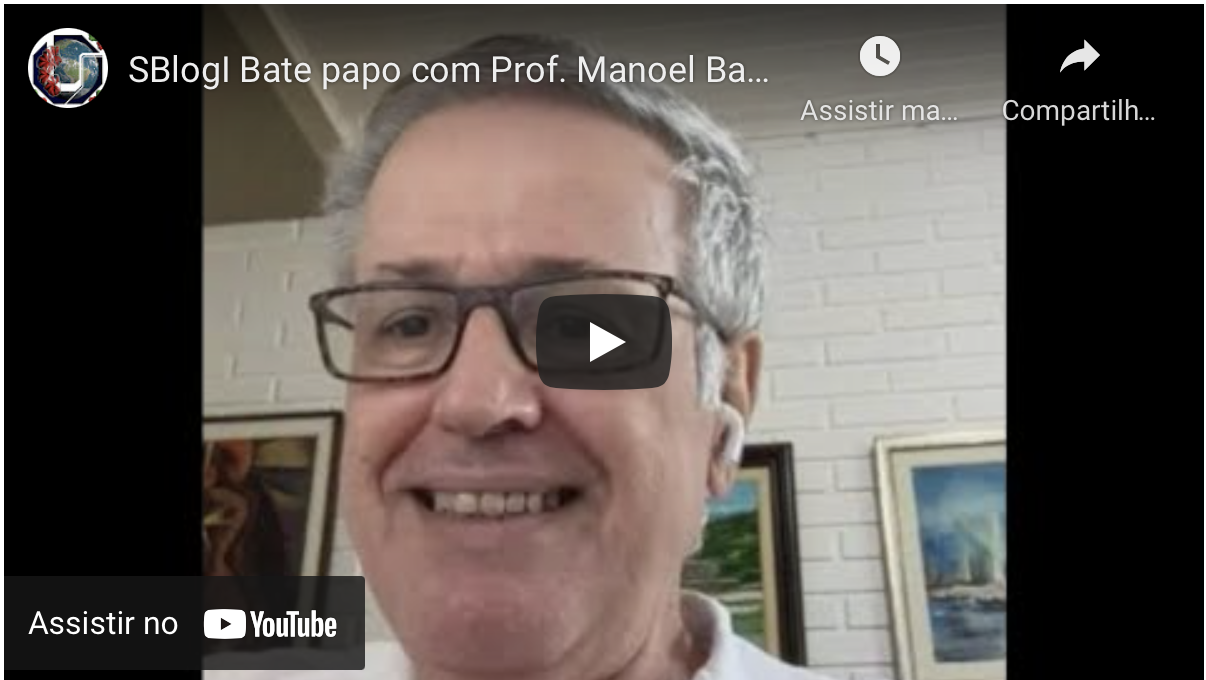 SBlogI Bate-papo com Prof. Manoel Barral Netto
Tiago
08 de junho de 2021